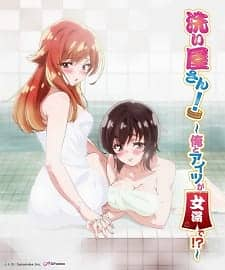 Titoli Alternativi: Araiya-san! Ore to Aitsu ga Onnayu de!? , Miss Washer! Her and I in Female Bath!?
Studio: Magic Bus
Data di Uscita: 7 Aprile 2019
Genere: Commedia, Ecchi, Hentai, Sentimentale
Episodi:
Durata Episodi: 5 min
Censura: No
TRAMA:
"Ma questo non mi sembra un massaggio! …" Sota è stato assunto come "lavatore di schiene" e massaggiatore part-time presso il bagno pubblico della sua cittadina. Un giorno gli capita di dover lavare la schiena ad Aoi, una sua compagna di classe, e in tale occasione cerca di celare la sua vera identità.
Versione Hentai 18+ visionare con responsabilità!
Extra
Araiya-san! Ore to Aitsu ga Onnayu de!? SUB ITA – Araiya-san! Ore to Aitsu ga Onnayu de!? Wiki – Streaming Araiya-san! Ore to Aitsu ga Onnayu de!? Sub Ita – Araiya-san! Ore to Aitsu ga Onnayu de!? Download SUB ITA – Araiya-san! Ore to Aitsu ga Onnayu de!? Episodi SUB ITA Download – Araiya-san! Ore to Aitsu ga Onnayu de!? Streaming SUB ITA – Lista Episodi Araiya-san! Ore to Aitsu ga Onnayu de!? Sub Ita – Araiya-san! Ore to Aitsu ga Onnayu de!? SUB ITA