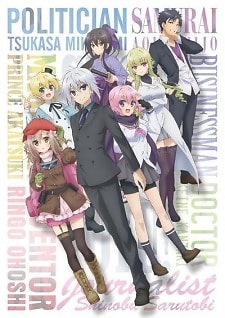 Titoli Alternativi: Choyoyu, Choujin Koukousei-tachi wa Isekai demo Yoyuu de Ikinuku you desu! – Super Human High Schoolers Are in Another World, But Seem to be Living in Comfort!
Studio: Project No.9
Data di Uscita: 3 Ottobre 2019
Genere: Fantasy, Magia
Episodi: 12
Durata Episodi: 24 min
Censura: No
TRAMA:
Sette studenti delle superiori rimangono vittime di un incidente aereo, risvegliandosi in un mondo alternativo che sembra essere un medioevo di stampo fantasy in cui esistono la magia e gli uomini bestia. In realtà però, nessuno di loro è un normale studente, difatti, in poco tempo i ragazzi riescono a raggiungere le vette del potere politico, economico, scientifico e medico di questo strano mondo!