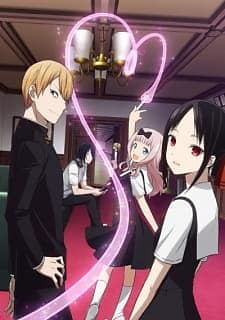 Titoli Alternativi: Kaguya-sama: Love is War, Kaguya-sama wa Kokurasetai, Kaguya Wants to be Confessed To: The Geniuses' War of Love and Brains
Studio: A-1 Pictures
Data di Uscita: 12 Gennaio 2019
Genere: Commedia, Scolastico, Seinen, Sentimentale, Psicologico
Episodi: 12
Durata Episodi: 25 min
Censura: No
Crediti: BAM
TRAMA:
Considerato un genio grazie al suo perfetto rendimento scolastico, il presidente Miyuki Shirogane dirige il consiglio studentesco della prestigiosa Shuichiin Academy, aiutato dalla bella e ricca Kaguya Shinomiya, la sua vice. I due vengono spesso considerati la coppia perfetta, nonostante non ci sia nessuna relazione amorosa tra di loro. La verità però è che, avendo passato molto tempo insieme, entrambi hanno cominciato a provare qualcosa l'uno per l'altra. Tuttavia, poiché ritengono che le dichiarazione d'amore sono segno di debolezza, nessuno dei due ha intenzione di confessare i propri sentimenti! Miyuki e Kaguya intraprendono così una guerra in cui ogni mezzo è lecito, pur di ottenere una confessione dell'altro/a. Che questa battaglia d'amore abbia inizio!