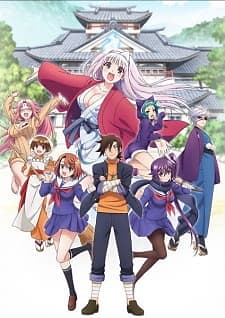 Titoli Alternativi: Yuuna and the Haunted Hot Springs, Yuragi-sou no Yuuna-san, Yuuna of Yuragi Manor
Studio: Xebec
Data di Uscita: 14 Luglio 2018
Genere: Commedia, Ecchi, Harem, Sentimentale, Shounen, Supernatural
Episodi: 12 + 3 OVA
Durata Episodi: 24 min
Censura: No
Crediti: TnS
TRAMA:
Fuyuzora Kogarashi è un ragazzo dotato di poteri spirituali, molto povero e alla continua ricerca di una casa in cui vivere. Un giorno si imbatte in una pensione, chiamata Yuragi-sou e che un tempo era una locanda molto rinomata per le sue sorgenti termali. L'affitto è particolarmente conveniente, poiché la pensione è infestata da un fantasma. Per Kogarashi questo non è un problema, così come non lo sono gli altri inquilini della casa, che son tutte ragazze molto attraenti. Ben presto scopre che a infestare la pensione è lo spirito di una ragazza di 16 anni di nome Yuna. Kogarashi non ha alcuna intenzione di farle del male e finisce per accettare di aiutarla a risolvere i suoi problemi irrisolti, in modo che possa passare alla vita dopo la morte. Una volta compreso che Kogarashi non ha cattive intenzioni con Yuna, gli altri inquilini decidono di rivelare la loro natura soprannaturale, ed è così che per lui inizia una vita tutt'altro che normale!